Press area
Audi AG and Riello Power Systems work together for an efficient energy management for electric...
March 16, 2021
Sirio Power Supply guarantee valuable energy storage and sustainable power usage for the Audi Brand Experience Center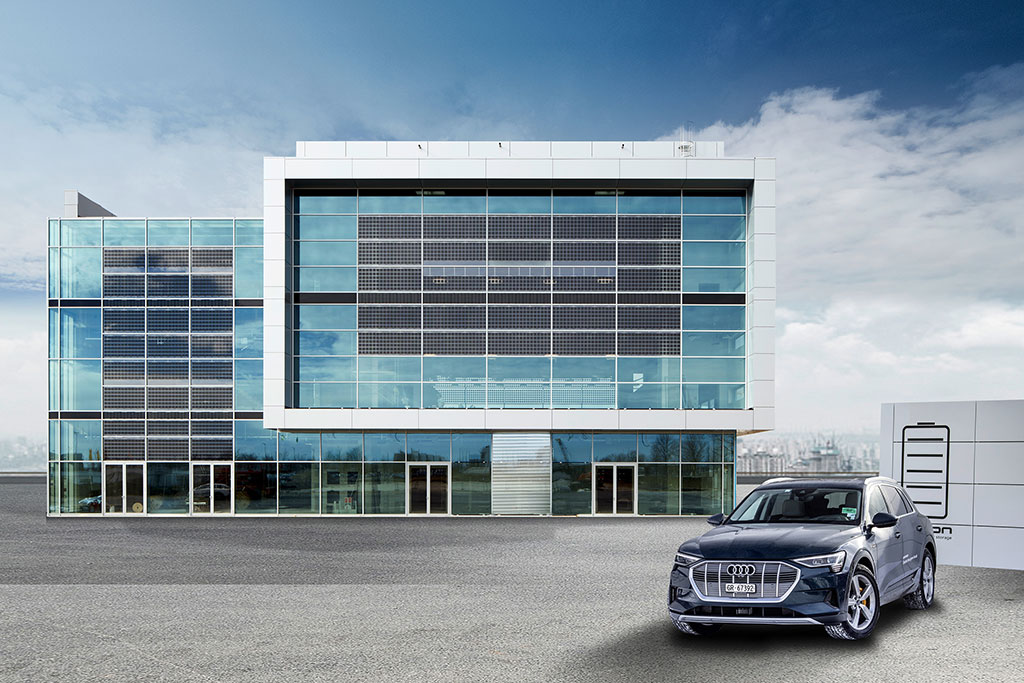 The AUDI AG Brand Experience Center event and conference building at Munich Airport has 1,650 photovoltaic elements (dark glass surfaces) whose electricity is used to supply the building and the charging stations for e-vehicles. (Those: AUDI AG)
Inside Munich Airport, Audi AG manages approximately 78 AC charging points (in alternating current) and six HPC charging points (High Power Charging, fast charging) which allows itto satisfy the ever-increasing demand for electric vehicle (EV) charging stations requested by airport users. Riello Power Systems was involved in this project to ensure the energy storage and protection of the Audi Brand Experience Center.
The Audi Brand Experience, located in the airport area of the Bavarian capital, is equipped with as many as 1,650 photovoltaic panels, which generate approximately 42,000 kWh of energy per year. The energy produced in excess, thanks to Sirio Power Supply (SPS), can either be fed directly into the electricity grid or temporarily stored and used for the subsequent sustainable operation of the buildings.
The two Energy Storage systems required for energy storage are equipped with high voltage batteries from disused Audi e-tron test vehicles (pursuing the "2nd life" battery concept), capable of absorbing the energy (720 kWh) needs of three days. The storage systems have been designed to monitor the electricity consumption of the entire building and of the individual charging stations, but also of the state of charge of the energy accumulators and battery charge in periods of low absorption.
The installed SPSs continuously monitor the power supply request, preventing the system from overloading: in fact, in the moments of commissioning of the charging stations, even if they are of short duration, the energy required is very high and thanks to the Peak Shaving function electrical grid overloads can be avoided.
The SPS solution (2x 400 kW) provided by Riello Power Systems allows vehicles to be recharged quickly and completely, in an interval of about 45 minutes.
The SPS, which integrates the function of a UPS systems, can protect the charging stations in the event of a power failure. With the integration of a UPS system, the SPS storage system is thus able to offer protection to the connected electrical loads, improving the energy quality of the network so that problems such as distortions, voltage drops and spikes, as well as frequency fluctuations, can be avoided. The UPS system is therefore an important part of the Brand Experience Center's global sustainability concept.