Power Range:
800 - 3000 kVA
The centralised by-pass is an alternative to the distributed by-pass. Technically the two solutions fulfil the same purpose, i.e. to guarantee power continuity, but have different architectures.
Whilst it is true that distributed bypass solutions are the most common due to their flexibility of use and low initial cost, it is also true that in the medium/large data centre market centralised bypass solutions are preferable in terms of technical performance, footprint and sometimes cost, above all in large installations where the number and type of protections as well as system wiring have an impact.
The data centre and data-storage market in general is destined for large growth (in terms of percentages and volumes). It is therefore important to respond to the various requirements with flexible solutions that are able to adapt to the growing demands of the market in terms of the levels of power and performance required.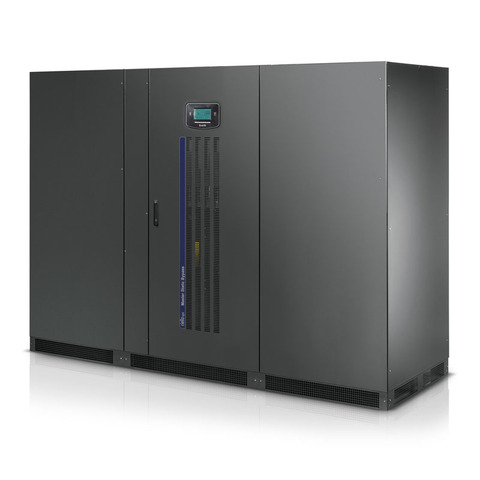 Technical specifications of the model
ZERO IMPACT SOURCE
The Master HP/HE series features the added advantages of the Zero Impact Source formula offered by an IGBT based rectifier assembly. This eliminates problems connected with installation in networks with limited power capacity, where the UPS is supplied by a generator set or anywhere there are compatibility problems with loads generate current harmonics. Master HP/HE series UPS have zero impact on the power supply source, whether it is a mains grid or generator set:
input current distortion <3%;
input power factor 0.99;
power walk-in function that ensures progressive rectifier start up;
start up delay function, to restart the rectifiers when mains power is restored if there are several UPS in the system.
BATTERY CARE SYSTEM
Master HP/HE series UPS include a range of features designed to prolong battery life and reduce their usage such as different recharging methods, deep discharge protection, current limitation and voltage compensation according with battery room temperature.
COMPLETE GALVANIC SEPARATION
Master HP/HE UPS feature an output isolation transformer (delta zig/zag type) on the inverter as part of the inverter circuit inside the UPS cabinet, providing galvanic isolation between the load and the battery with improved versatility in system configuration.
MAIN FEATURES
High efficiency up to 99.4% (STANDBY ON Mode);
Compact size: e.g.: only 0.85 m2 for the Master HP/HE 250 kVA;
Reduced weight for tranformer based UPS;
Double load protection, both electronic and galvanic, towards the battery.
The entire Master HP/HE range is suitable for use in a wide range of applications.
Thanks to the flexibility of configuration, available options and accessories, it is suitable for supplying any type of load, e.g. capacitive loads such as blade servers, rather then motor drivers or any other critical vertical application.